I grew up in during the sixties in Westport, CT. I attended high school at Barlow (Amenia, NY) and Staples '71. I then did a year at Berklee College of Music in Boston, MA. After an involuntary stint in the military (US Army Germany 1972-74), I returned to New England College in Henniker, NH. It was there that I met and joined The John Wardwell Blues Band. After 8 years of performing and touring with the band I finally tired of the road and living in poverty. So I went back, finished college and became a Software Engineer.

I first accepted a position at Renaissance Computing, Inc. in Cambridge, MA. There, I was able to work on and learn the mighty Multics operating system and develop systems using PL/I. I maintained and enhanced the Janus DBMS component of the Consistent System. I also had the chance to delve into DOS and Windows programming since the very early stages of their development.

In August 1991 I entered into an agreement with Twelve Tone Systems (now Cakewalk) to create a software synthesizer driver for the FM sound chips starting to appear on the market at that time. It was a DOS based driver accepting MIDI at one end and converting it to low-level primitives that controlled the FM chips to create sound. Cakewalk received a lot of accolades regarding the driver, and I have say that I thought it was pretty cool too. I did a few other contract jobs for Cakewalk before convincing them to hire me full time. So this August is really my 19th anniversary of working there.

Since February 1996 I've been developing software at Cakewalk in Boston, MA. In addition to working with a first rate team, I find this is a perfect fit for my programming and music interests. This place places a premium on integrity and quality. I actually get paid to play with synthesizers and other toys while helping to create the worlds best sequencer software for Windows.

Since joining Cakewalk, I have worked on five major releases of Cakewalk Pro Audio, three versions of Cakewalk Professional, ten versions of Cakewalk Home Studio, Songwriter and nine versions of SONAR Producer and Studio, seven versions of SONAR Home Studio -- plus international and OEM versions of all of the above. In addition (with some help), I have created Guitar Studio 2, Guitar Tracks 1 and 2, Guitar Tracks Pro 3, Club Tracks, Music Creator, SONAR LE and worked on Project 5 and Audio Creator.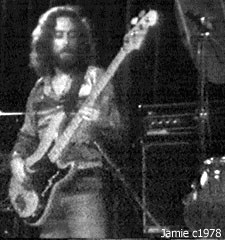 With John Wardwell Blues Band